The Hansa L series features a unique connection that allows the spreader to sit much closer to the tractor aiding in weight distribution and essentially allowing larger pay loads to be carried with less front weight on the tractor.
The unique design of the Hansa L series uses a conveyor to deliver the product to the spinners, a lot of R&D has gone into the bin shape to ensure that bridging does not occur with the wide range of products the unit is able to spread, ranging from urea to lime.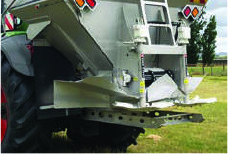 The one piece stainless steel body is integrated with its frame, eliminating the chance of corrosion and extending the overall life of the spreader unit.
Simply Plug and play, the Hansa ISOBUS control system is compatible with all ISOBUS compliant terminals and is variable rate ready as standard. This allows the operator to move the spreader from one machine to another with ease and no setup changes.
ISOBUS
Hansa H5 controller (5" Touch screen)
Hansa H7 controller (7" Touch screen)
Twin conveyor for headland & section control
(available with H7 & ISOBUS)
When selected with ISOBUS rate controller auto rate control is enabled